Author Archives:
admin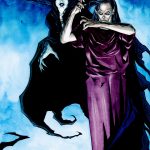 Full-page chapter illustration from The Autumn People by White Wolf, Inc. Watercolor and ink on illustration board
Also used as brochure art and a promotional poster for the Changeling:The Dreaming line of books and games.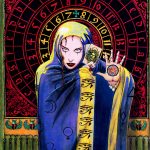 The actual title of this piece is The Cartomancer. It was a student assignment from my SCAD days(daze?) that was easily my first breakout success with regard to fandom. T-shirts and prints sold out at my first stint behind the artists' table at Dragon*Con back in the early 90s. Regrettably, the original is now lost. […]
Another student piece from my SCAD years. The assigment was for each of us to create a variant cover for the CD of our choosing. Hard to now say which came first, the image or the album title.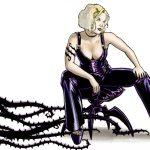 It has been my inestimable good fortune to have known and still know many beautiful women. All the more wondrous it is then to have had many of these same lovely individuals model for me. Here is the beguiling Emily.
The reference for this illustration is a corner on Wall St. Hardly the most glamour-friendly place for a hapless Fae to find herself. Considering the current financial climate, the chimeric drake seems almost portentous.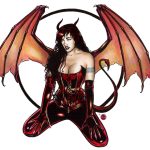 The model here is Dani Gomez. She is as beautiful in person as she is in personality.
An Aberrant character for the White Wolf game of the same name. The Aberrants were a sub-race of metahumans much like the mutants of the Marvelverse. Unlike their Marvel counterparts however, most of the Aberrants succumbed to the neuro-degenerative, quantum taint of the Mazarin-Rashoud node, the tiny, yet formidable source of their stupifying power.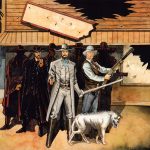 Love the Weird West genre. Steampunk, which I also very much enjoy, seems to have at turns included or occluded it these days. My hope is that Weird West will remain it's own beast with the creative effort of gifted writers and inspired artists.
By
admin
|
Published:
June 23, 2011
A staple of the gaming industry, Mark's illustrations have appeared in Whitewolf's "World of Darkness" game line, Isaac Asimov's "History of Ibotics", H. P. Lovecraft's Mythos card game from Chaosium, Holistic Design Inc. Games and Robert E. Howard's "Black Reaper" from Millennium comics. He claims that he is currently teaching ebonics to the voices in […]